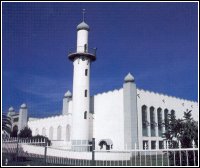 LAUDIUM

Laudium is a residential area which was proclaimed an "Indian Area" by the South African Government id 1961.

Most Indians were then forced out of their homes in Pretoria into this new township where some of them built beautiful new homes.

Laudium consists of 3 extensions which were completed in 1976, 1978 and 1983, respectively.

There are a variety of restaurants, including Mohideen's, Muchachos, Debonairs, Nandos and Wimpy, as well as some very good shopping centres available here. One hotel is situated across the road from one of the shopping centres.

Due to the fact that the majority of the residents of Laudium are Muslims, all food stores sell halal food, prepared according to Islamic Law. Muslims, Hindus and Christians live in Laudium.