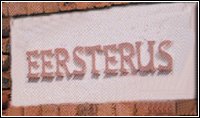 EERSTERUS

Established between 1905 and 1906 on the farm called Vlakfontein, Eersterus (meaning "first rest") is situated East of the City of Tshwane CBD (approximately 15 km from the city centre).

The name probably originated from the fact that the mail-coaches on their way from Pretoria to the Lydenburg goldfields made their first stop here.

Population
Consisting mainly of Coloureds, the total population of Eersterus is approximately 40,000. Afrikaans is the main language spoken here but Sotho, English and Zulu are languages also widely spoken.

The People
The residents of Eersterus are a close community where everyone seems to know each other. The well being of the youth is strongly regarded.