::
SOWETO
::
Background
Soweto, which is situated to the south-west of Johannesburg, is the country largest African residential area. It consist of 29 townships which, together with Diepmeadow ( Diepkloof and Meadowlands) and Dobsonville, from what is commonly referred to as greater Soweto. The Johannesburg municipality controlled Soweto until 1973 when the West Administration Board took over. It was a great full municipal status in accordance with the provision of the Black Authorities Act of 1982 after the council's elections.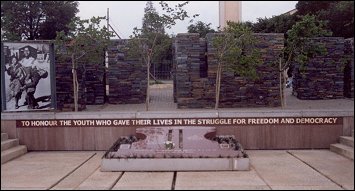 Political Development
In the wake of the 1984 violent unrest, several political, youth, community and student organizations became active, amongst them the Soweto Civic Association (SCA) Congress of South African Student ( COSAS), Soweto Student Congress, Soweto Youth Congress ( all United Democratic Front ( UDF) affiliates, Azanian Students Movement ( AZASM) and Azanian Peoples Organisation ( AZAPO). They all campaigned against the creation of black local authorities before and during the 1983 elections. On the other hand, local civic bodies such the established Sofasonke Party, Makgotla and Dikwekwetha Party, participated in the elections. The United Democratic Front was key organization driven by the then the banned African National Congress Freedom Charter, which was adopted in1955 in Kliptown. By opposing the local authority elections, it was to intensity the struggle of making the apartheid imposed structures to black people ungovernable and school boycotts called by the youth, community and political groups in Soweto mainly in protest against African exclusion from the new constitution dispensation.
Tourism
Soweto has many places of attractions to see and visit. It has a Hector Pieterson Memorial and Museum. This Memorial and Museum housed photos, which were taken during the 1976 student uprising in defiance of Afrikaans Language, as must for African students to learn and understand at high school level. Students were lead by their young fearless peers like Tsietsi Mashinini, which resulted in first shooting of a pupil, Hector Pieterson. Soweto has a world know street called Vilakazi Street. This street has produced two Nobel Peace Price recipients, former first president under new democratic dispenation, Nelson Mandela and Archbishop Desmond Tutu. Every visiting tourist has the opportunity to take a walk to pass the house of Archbishop Desmond Tutu until the merger of Ngakane in the corner. Other places to visit are the following, Regina Mundi Catholic Church in Rockville, which was the place for political gatherings and burying fallen comrades and Kliptown, which gave birth to the African National Congress Freedom Charter in 1955.
________________ // _______________