::
KWA-THEMA (Springs)
::
Background
Kwa Thema was established in 1951 to accommodate African families who were removed from Payneville (situated within walking distance of Springs). It is situated about 10km to the south-west of the town. Payneville was former hometown of the living great trumpeter, Hugh Masekela.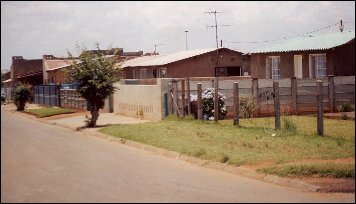 Political Development
Kwa Thema had a black Local Authority with municipal status. The 1985 violence unrest and right-wing vigilante activity resulted in many homes, including that of Bishop Simeon Nkoane of the Anglican Church, being damaged. Activity civic organizations were the Kwa Thema Residents Action Committee, Thembelisha Residents Representative Committee and the Kwa Thema Homeseekers Committee.
Tourism
The first stop for any tourist in this township should be Job Maseko Primary School; this school has reach history about politics and academia since its establishment. In the eighties it served as ground break for holding political meetings in resisting apartheid oppression. Within the school, there is erected memorial stone about Job Maseko. Down the road, you will find the place called Zibas Garden Square, which is place for open entertainment for Kwa Thema Community.
________________ // _______________