::
REESTON
::
Reeston is an informal settlement area along the Mdanstnae access Rd. (Golden Highway) Reeston is divided into 5 areas.
Areas in Reeston:
Dice area is made up of 741 dwellings with an average of 5 people per dwelling. 3705 people


Border – 322 dwellings.


Reynolds – 445 dwellings.


Blue Rock – 226 dwellings.


Jevon – 224 dwellings.


Kylitsha (new area)
A housing project has been started in Reeston, and we hope in time that all residents will have the basic amenities (water, electricity etc) Currently water is obtained from central taps, there is no electricity, sewerage or plumbing.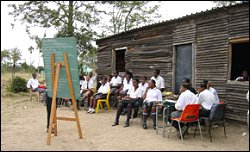 Sophathisana High School - Border Area
No classrooms, classes held outdoors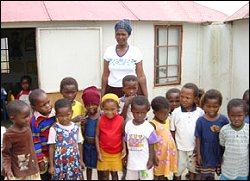 Creche - Dice Area - Prefab huts
No playground equipment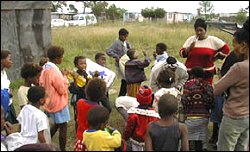 Soup Kitchen - children fed 5 days a week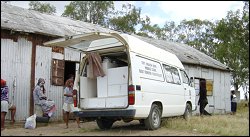 Health Mobile Clinic on its monthly visit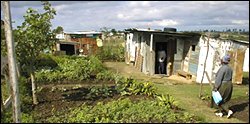 House in Dice - Reeston
Text and photos sent to us by
Barbara Blasko
- thank you Barbara!
"
Since arriving back in South Africa and becoming involved with the E.L. Benevolent Society it has been my privilege to visit the Reeston area on a regular basis. I am amazed how much is being done with so very little
" - Barbara
________________ // _______________