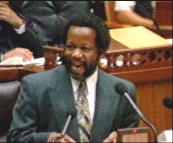 Rev Kenneth Meshoe, MP (President)
African Christian Democratic Party



Back to ELECTIONS'99
"There are people that think democracy means, "being free to do anything I want at any time without regarding what the next person thinks or feels". Now as a Christian political party, we understand that God gives freedom, but He says in His word that freedom must not be used as an opportunity to do wrong. What has happened in our country is that people have been given freedom but no responsibility - so the ACDP will balance freedom and responsibilty."
Go to our Website